SO. we've been in our house four months now and ever since we started settling in I've been wanting to take photos to compare them to when we first viewed the house. we went through a real pain-in-your-arse process before we could get keys in our hands. think stress city for three months.
originally we picked out a house that was a 3 bedroom, 2 bath with a basement apartment that we were going to rent out. and then four days before we closed the bottom completely fell out of everything when we found out there had been multiple sewer backups. yikes!
at this point we'd already given up our apartment, packed all of our stuff into boxes and were temporarily living above our old apartment (we totally lucked out that our friends/landlords had just moved out as well, and the upper level of the house was vacant). so obviously, we were fairly bummed and certain we'd have to rent again for another year before finding another house. two self employed people trying to get a mortgage – not an easy battle.
I contacted a great local real estate agent that I had done headshots a number of times for before and explained the situation. we were still in the process of trying to be legally released from the first property and time was running out before new tenants were to move into where we were staying. (I can't tell you how many times Dru and I cursed that month – A Serious of Unfortunate Events is what September was alternatively titled to us). anyway – he was an absolute ninja, and got back to me within 24 hours with a "I know of a small house on the heights, it's a "different" little house but lot's of charm, let me know if you'd like to see it." I saw a few photos of it online and was totally intrigued – clapboard on the INTERIOR walls, older house, great view. sure – we'd take a look. it couldn't hurt.
I'm fairly certain we didn't even make it past the fireplace when we knew we wanted the house. it was so weird, and so perfect, and so cabin-ey (in the smack middle of corner brook/the heights) that it was like, who built this for us?! sign us up now. fork over those papers, I'll give you my firstborn. just give us the keys.
I'll let you have a look – and all the people running around in the top photos are parents of ours who we graciously dragged along to make sure we weren't buying another lemon. thanks parents.
LIVING ROOM VIEW; before/after.
– as nice as it would have been to have a dining room table, we preferred more "cosy" seating for people to relax when they came over, so we chose to go with a loveseat & a condo sized couch instead (the kitchen island is also big enough to accommodate four people eating anyway)
– we didn't want to take away from all of the cool wood, exposed brick, and clapboard in the house, so we chose to tone down some of what was going on: I painted the clapboard a sea-blue for a cleaner aesthetic, and painted the walls a cool gray to even things out as well. I kept thinking "light & bright," so that whatever art we hung would be able to pop that much better. big art pieces, people. they're the best.
– yes, that is a trap door leading downstairs. our laundry is down there – along with all of our clutter that I choose to ignore. there's actually 0 closets upstairs, so major bonus points that we have such good storage in the basement instead.
KITCHEN VIEW; before/after.
– not much has changed; bitta paint, bitta art, different dishes.
– the red floor is one of my favorite things in this house.
– the plan is to *possibly* put in upper cabinets for extra storage, paint the lower cabinets white, and put in butcher block countertops. before someone shames me for painting the wood cabinets – think about it. butcher block countertops on wood cabinets would really make our house look like the place where wood came to die. nuh uh.
– I'll forever be on a hunt for nice countertop stools/chairs. the wooden ones that are there now do the job, but hurt my soul.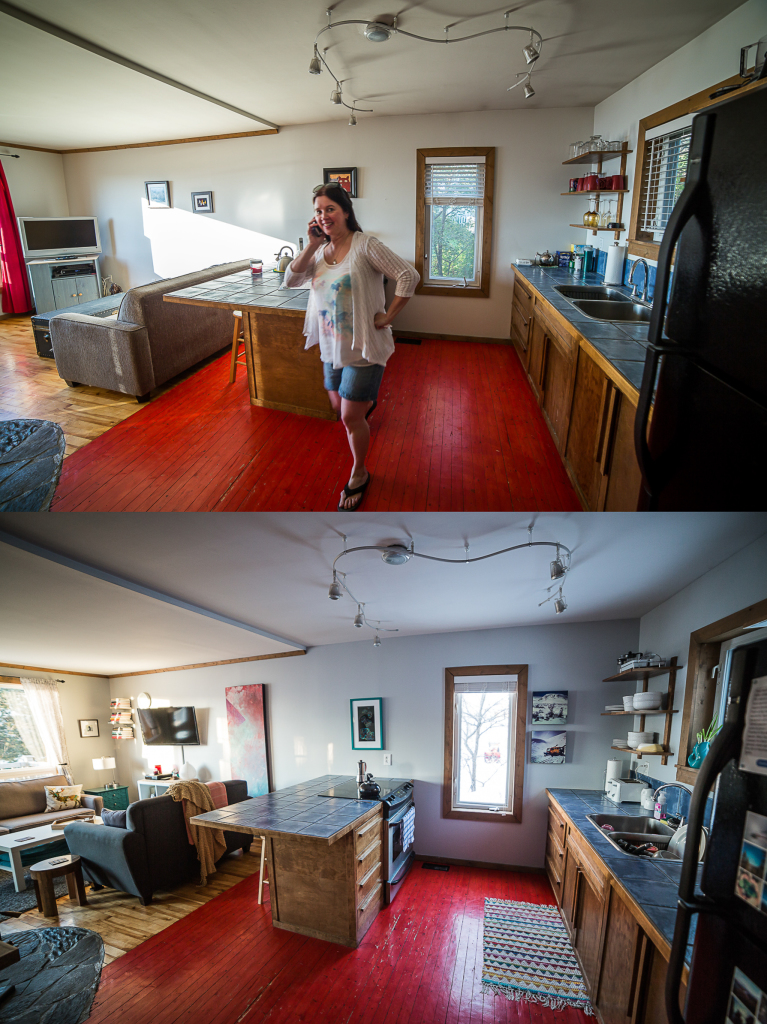 HALLWAY VIEW; before/after.
– bitta paint, minus a shelf, bitta large art. (it's a piece by Maria Mercer – she's a crazy talented human being).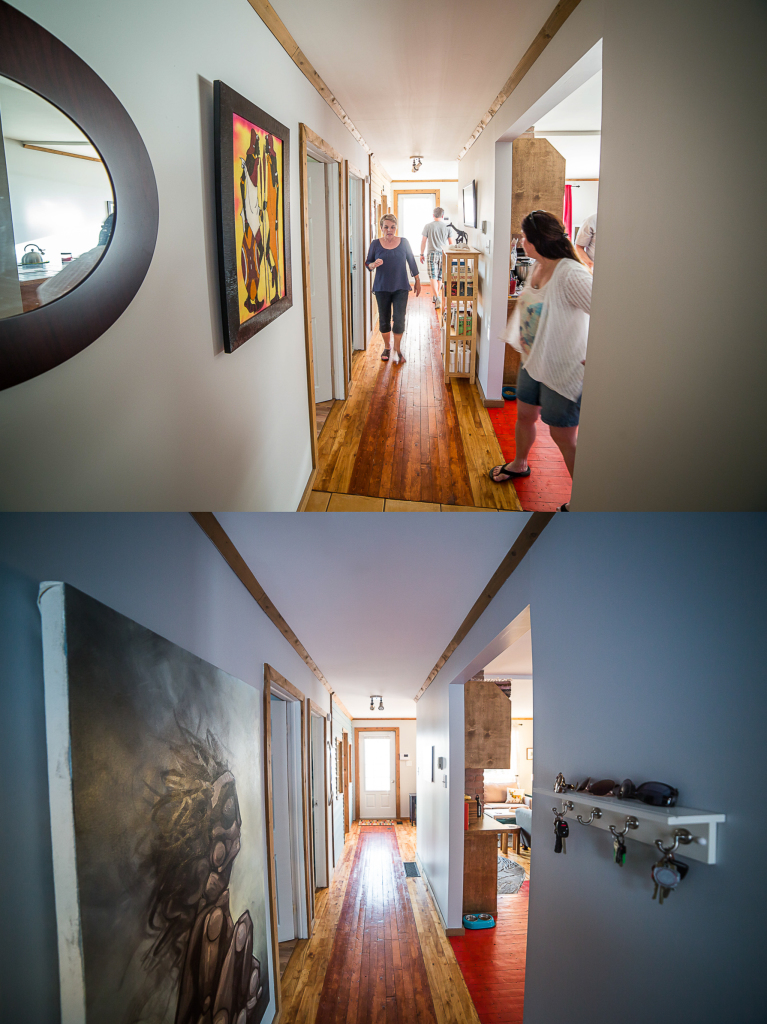 BEDROOM VIEW; before/after.
– the main goal here was to establish ONE closet space, rather than having storage spaces so scattered
– we just installed a super simple closet from Kent to tie us over (an ikea Pax closet is probably the end goal, because doors would be amazing) and switched the whole room around
– the paint is one shade lighter than the gray in the living/kitchen area
BATHROOM VIEW; before/after.
– we left the blue paint in here, and just did touch ups around the shelves that we took down
– we replaced the vanity (it had 0 storage, and I didn't love having every product on display on the wooden shelving) so we went with an ikea Godmorgon vanity instead which is AMAZING. ikea products + shipping costs are worth every penny. it's a wall mounted sink – no legs – and while installing it wasn't the most fun, it's super sturdy even though it's full to the brim and all the clutter is hidden. (are we sensing a theme yet?)
– the brown bathroom tile makes me want to take a hammer to it every day and they're the very next thing to go, along with a new light fixture and a wall mounted storage cabinet instead of the wooden shelf.
– a white subway tile shower is also in the discussion, and so is heated flooring – the bathroom sits over our cold basement and because we're mostly running the wood stove, the forced air furnace isn't run often and so the tiles are ice.
OFFICE VIEW; before/after.
– oh, hello beautiful. the green in this room kind of left us feeling like we had no idea how big this room was. it was too dark for us to be able to work in, so the second day we had keys while I was priming the bedroom, my stepdad was graciously doing the same to the office. there's still some green remnants on the trim if you really go looking for it… it's impressive really. it's a pretty determined color.
– I have to add: dining room chairs as desk chairs is such a bad call. like, the worst call. I roll over at night and wonder why my back hurts, and them I'm like RIGHT. you sit on a wooden chair while you work all hours of the day. you asked for it, sister. I just refuse to buy a black task chair at staples. is it so wrong to want modern gorgeous desk chairs? do they exist? let me guess, they don't ship to canada. of course they don't.
– better storage for the left side of the office is also in the plans: cubed shelf is from canadian tire and has lived it's lifetime. there's a gorgeous mid-century modern dresser hiding at dru's aunts that I'm dying to repaint and use, and that dru's threatening to burn. we'll see who wins that battle.
OFFICE OUTSIDE; before/after.
– a fresh coat of blue paint, and gray paint on the interior – the biggest difference.
– we're also pretty sure those windows are the original exterior windows. its bananas.
LIVING ROOM + KITCHEN VIEW; before/after.
– just some gray paint is all that's happened to this area for now!
– the large painting on the left of the dark gray loveseat is by Meagan Musseau (another incredibly talented human I did my BFA with) and it totally makes the living room for me. I will admit, I had a minor panic fest when I saw the blue clapboard in the view of the red kitchen floor – soo much color. but when the painting was hung it was like ahhhhhhhh, it all makes sense now. the red floor was tied in with the blue clapboard and everything was right with the world again.
KITCHEN VIEW; before/after.
– there's no looking past those stools. it hurts me. I'll do better in the future kitchen, I promise.
– the track lighting is super cool, but gives off very little light – it's probably going to have to be replaced in the next year or so.
KITCHEN II; before/after.
– again, paint is the only real difference!
– I'd like to brag add that since the kitchen was the very last spot to be painted and I am also a ninja, that I no longer required painters tape at this point. I can cut in like nobodies business. truth.
– some sort of white/gray herringbone backsplash would mean that I could die happy then and there.
and thats it!
there's something to be said about small space living. our whole upper floor is approximately 724 square feet and it's all we need for the two of us at this point. I love the idea of living in a space where everything has a purpose – design wise, storage wise, and living wise. my bloglovin' has actually been taken over with design blogs. besides photography/art, it's truthfully my other major interest. I find it's so much easier to work (not to mention much more creatively inspiring) in a home that is so wonderfully weird. it's a definitely a good vibes house. we hope you like, and we'll probably do another post as other major changes happen too!
much love! now, come visit.
candace