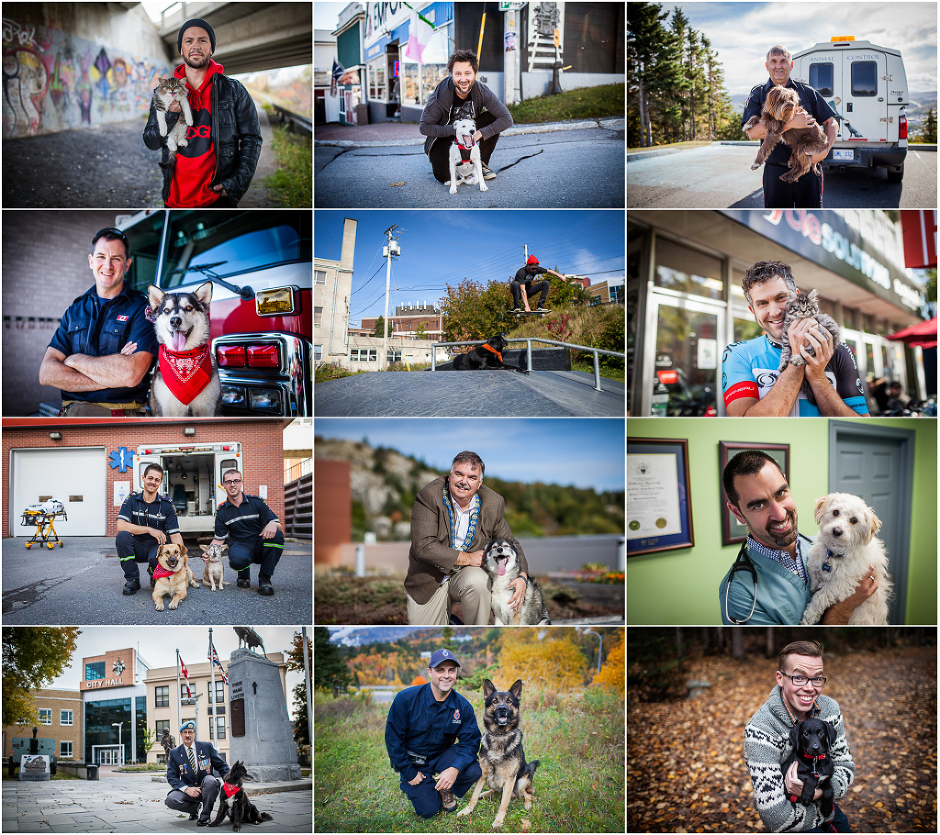 this project was pretty time consuming – and I loved every minute.
when the Bay of Islands SPCA here in Corner Brook started tossing around the idea of putting out a calendar containing men of the community with rescue animals as a fundraising effort, the more I heard about it the more I thought JUST SIGN ME UP ALREADY. they have a mountain of work ahead of them to get into their new shelter in Hughes Brook. we're talking tens of thousands. and a then few extra tens of thousands on top of that.
the men of the calendar are:
FIRST ROW: Jeremy Osmond of JODSGN with SPCA kitten Basil, Sherman Downey of Sherman Downey & The Ambiguous Case and rescue Pete, dog catcher Wayne Peddle and his dog Stomper
SECOND ROW: Firefighter Jon Patten and his rescue Trigger, Joshua Keough and his rescue lab Roxy, Peter Ollerhead of Brewed Awakening and rescue kitten Candy
THIRD ROW: Paramedics Matt Gallant & Lawrence McCarthy and their rescues Chase & Shelby, Mayor Charles Pender and his rescue Shadow, and Michael Tipple of the Humber Valley Veterinarian Vet Clinic
FOURTH ROW: Veteran Matthew Connolly and his rescue Islay, Constable Jody Ryan and his dog Biff, and Tom Cochrane of the Corner Brooker and SPCA rescue Roman
here's a feature the Western Star recently did a feature on firefighter Jon Patten for it too. so wonderful that the physical calendars haven't even made their way into our hands yet and the support is already rolling.
if you're interested in getting one, the calendars retail for $20 each and heres a few ways you can get in contact/pre-order until we receive them in a few weeks:
email: nlwestspca@gmail.com
phone: 1(709)-785-2747
and if you're local and you'd like to pop by the shelter to pay, they can take cash/credit – as well as any food/litter donations you feel like passing along as well.
I also feel pretty compelled to mention: this is not a sexist deal ; ) just a long term fundraising plan that is set to feature the women of the community in 2016!
thanks guys!